::
musicians
::
events
::
booking
::
learning
::
traditions
::
photo gallery
::
samples (audio)
::
samples (video)
::
store
::
links
::
donation
::
contact us


Chen Tao (Director)
Melody of Dragon, Inc.
53-19 195th Street
Fresh Meadows, NY
11365
Tel: 347-259-9252
Email


---
Xun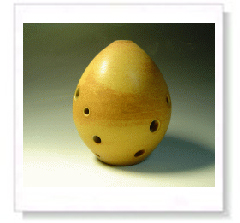 >> Xun is a blowing instrument found in China's primitive society. The imitation of bird and animal sounds by the ancestors explains a possible reason for its coming into existence. Originally used as an instrument to attract wild animals during hunting, the gradual addition of holes turned it into a melodious instrument on which tunes could be played.

The xun found in the primitive society were of various shapes. The pottery xun excavated at the Hemudu ruins are in an oval shape and are estimated to be 7000 years old. The ruins are located in Yuyao county of Zhejiang. These xuns have holes for "blowing" but not for "sound". Another primitive type of xun was a one-hole whistle, made of very refined mud and moulded in the shape of an olive. This was found at the Yangshao cultural ruins in Banpo Village of Xi'an in Shangxi, and has an estimated history of 6000 years.

The Tanghu Xunpu compiled by Wu Xuyuan in the Qing dynasty (1888 AD, the 14th year of the reign of Emperor Guangxu) was the only collection of xun scores formally published in history. Found in the publication were drawings showing the proper way of fingering the instrument, and the various musical contexts in which it could be used. There were also tunes such as Beijishengcao, Suonanzhi and Lanhuamei notated in the style of the guqin jianzipu( a certain notation used only by the stringed instrument called a guqing).

<<sample music>>
---


explore & learn more about the Chinese music traditions.


Click here, to hear the music samples.

meet our musicians.


copyright 2004, by melody of dragon.