::
musicians
::
events
::
booking
::
learning
::
traditions
::
photo gallery
::
samples (audio)
::
samples (video)
::
store
::
links
::
donation
::
contact us



Chen Tao (Director)
Melody of Dragon, Inc.
53-19 195th Street
Fresh Meadows, NY
11365
Tel: 347-259-9252
Email



---
Erhu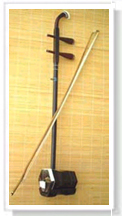 >> The many varieties of spiked fiddles in China are collectively called huqin. They became popular throughout China during the Yuan dynasty (15th century). The erhu, a 2-string fiddle, is the most commonly used in folk ensembles and is the principal bowed string in the modern Chinese orchestra. Its tonal range is from medium to high register. A long, straight stem is attached to a resonator covered with a snakeskin, which serves as the soundboard. The instrument is held in an upright position on the lap. As the horsehair bow passes between the strings, the fingers press inward or outward to make the instrument sound. The absence of a fingerboard allows the performance of a variety of vibratos and slides important to articulation in Chinese music.
---





explore & learn more about the Chinese music traditions.



Click here, to hear the music samples.


meet our musicians.



copyright 2004, by melody of dragon.